Made of steel. Explosion-proof.
Application
Devices are designed for connection and branching of control and power cables for automation and telemechanics.
Devices can be applied in explosion hazardous areas of rooms and outdoor installations as per explosion protection marking
Design
Housing of boxes is made of 13MnSi5 steel and has electroplated galvanic anti-corrosive and varnish-and-paint coating. Cable entries are welded into housing. Tightness of housing is provided by rubber sealing of cover and cable fittings. The housing have two grounding clamps (internal and external). Housing mounting: two external mounting points. Round-section cables are applied. Mounting of cable wires is made using screw terminal clamps (two wires with 2 mm2 section into each clamp). Overall and installation dimensions of boxes are shown in figure 2.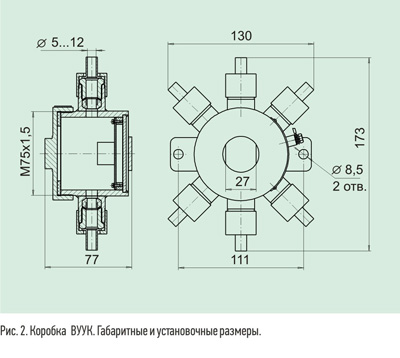 Technical parameters
Number of cable fittings: 1 ... 6.
Cable diameter, mm: 5 ... 12 (D12 cable fitting).
Number of terminal clamps: 2 ... 14 pcs.
Maximal voltage (AC, DC), V: 300.
Maximal curent intensity, A: 10.
Explosion protection marking - 1Ex db IIB T4 Gb (1Ex db IIC T4 Gb on Customer's request).
Ingress protection degree rating - IP66.
Ambient temperature - (-50...+60)°С.
Климатическое исполнение: УХЛ1.
Average lifetime - 15 years.
Modifications
Designation structure of VUUK boxes is shown on figure 3, where:
- number and location of cable fittings - see. fig. 4;
- number of terminals - from 0 to 14. Following variants of connection diagrams are available (fig. 5):
a) if number "2 … 14" is specified, the device is supplied with PCB with corresponding number of terminal clamps; installed; terminals are not connected together electrically;
b) if "n х m" is specified (n - number of electrical circuits, m – number of terminal clamps in each circuit), then terminal are connected with printed circuit.
c) combination of b) и c) variant;
d) if "0" is specified, then device is supplied without terminal clamps board;
- availability of inspection window (diameter 45 mm) is specified: "VUUK-...-SV";
- availability of mounting device for cable protective sheath - see section "Cable fittings". Note: junction boxes are supplied with D12 cable fittings by default.