UZA-3V transport tanks grounding device
Road tanker grounding device with self-contained power supply
Application
Road tanker grounding device UZA-3V is designed for deflection static electricity charges during loading and unloading of combustible and flammable liquids. The device provides continious control of road tanker grounding device grounding circuit and produces a light signal to indicate permission for loading/unloading operations.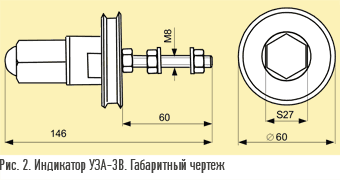 Design, operation principle
Design: the device supply kit includes indicator and grounding conductor (fig. 1). The indicator consists of bright red-colored LED and controller board, both filled with compound, and a lithium CR123 battery. Indicator mounting and electrical connection to grounding main is made using M8 pin, toothed washer and nuts from supply kit (fig. 2). Wide viewing angle of the indicator (180°) allows to use different positions for indicator mounting (fig. 3A). Grounding conductor consists of two same spring contacts clamps, connected by two-wired cable. При длине проводника 6 м, 12 м или 15 м индикатор комплектуется спиральным кабелем, а при длине от 20 м до 50 м – силиконовым кабелем (длина силиконового кабеля кратна 5 м).
Operation principle: first clamp of grounding conductor is connected to the metal part of tanker truck body or grounding main, the second one is connected to the disc contacts of indicator, which are separated by the insulation washer. (fig. 3B). At the same time, measuring of transitional resistances between contacts of grounding conductor clamps and resistance of its wires is carried out. Measured total resistance shall not exceed 100 Ohm – if it is correct, indicator LED lights up (interrupted glow), allowing operation of loading/unloading/. Indication is active throughout the whole loading/unloading operation, until the grounding conductor is connected to the tanker truck.